International Tuesday at Quartierstreff Staudenhof
International Tuesday | 09.11.2021 | 6-8 pm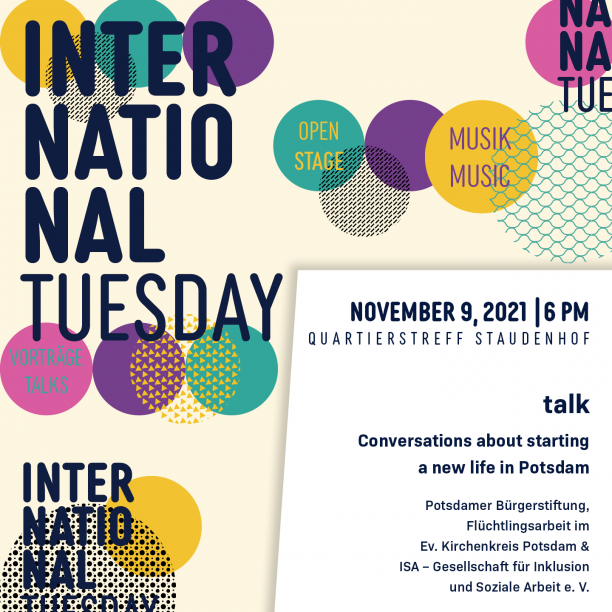 In the past decade, many refugees have come to live in Potsdam. With their diverse biographies and often dramatic experiences of flight they have been (and some still are) trying to find their own place in Potsdam's society. Is Potsdam a good place to make a new home?
How long will it take for refugees to find their place in this country, in the educational system, in the labor market, in culture, and especially in their everyday life? Will they be welcomed into the German community? This depends on many factors, but above all on direct contact and dialogue between refugees and locals.
A good year ago, the Potsdam's Community Foundation "Potsdamer Bürgerstiftung" published the book "Angekommen in Potsdam – Erzählungen und Bericht über Integrationsansätze in einer toleranten Stadt" – "Arriving in Potsdam – stories about ways to integration in a tolerant city". Refugees who came to Potsdam and Locals who helped them to settle in and find their ways, tell their stories. The first edition of 500 copies was quickly sold out. The Potsdamer Bürgerstiftung cordially invites you – together with proWissen Potsdamand the association Potsdamer Toleranzedikt – to the next event of the "International Tuesday" to have "conversations about starting a new life" on Tuesday, November 9, 2021, from 6:00 pm to 8:00 pm at Quartierstreff Staudenhof.
People who have arrived in Potsdam after fleeing their home country will give you a glimpse into their own unique biography after arriving in Potsdam and building a new life in this city. We will listen to people from Syria, Afghanistan and other countries to tell their stories, reflections on their own success and challenges after arriving in Potsdam. What does integration mean from their perspective and how do they experience urban society today?
The evening will be accompanied musically by Ismaila Ngambi from Cameroon.
Free admission / We kindly ask for donations.
Location: Quartierstreff Staudenhof Potsdam ǀ Am Alten Markt 10 ǀ 14467 Potsdam
Registration/Ticket: kontakt@international-tuesday.de
Due to the current situation, the following safety and hygiene regulations apply: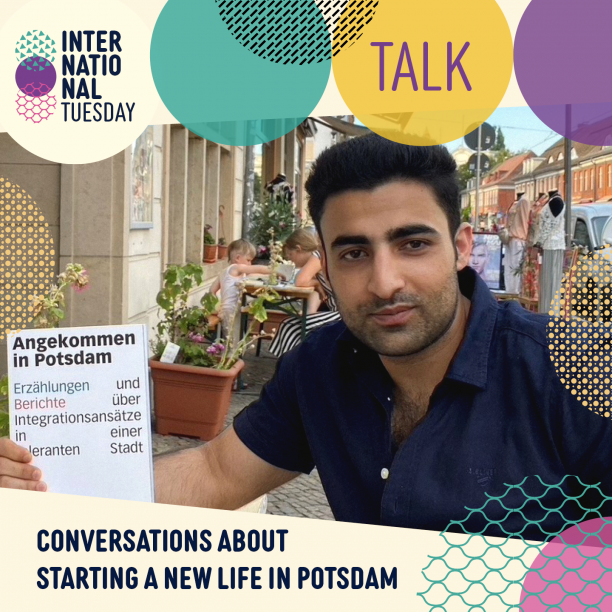 A medical mask must be worn when entering and leaving the premises, when going to the bathrooms and also when standing in line for catering.

You must be recovered, vaccinated or tested in order to attend the event. Proof of this must be presented at the entrance.

Your contact details will be registered at the entrance for tracking purposes (Corona app, Luca app or handwritten). Your data will be deleted after 14 days.

Please keep your distance of at least 1.5 meters throughout the entire event area. At the seating area, this distance is reduced to 1 meter (2 free seats) between different parties.
Copyright: Potsdamer Bürgerstiftung
Science needs to be a part of daily life. Welcome to the WIS in the Bildungsforum – the most intelligent and probably best located house in Potsdam. WIS means Wissenschaftsetage, "exhibition floor of science". Join us on 300 square meters full of science based on the world renowned research made in Potsdam and its surroundings. There are so many things we don't know yet! How is the universe built up? What do we know about the Koran? Is there a way to give back eyesight to blind persons?
WIS does not only offer you an answer to these questions but also the possibility to rent rooms for congresses, conferences and other events. You may even plan your next workshop on our roof and enjoy the lovely view over Potsdam.
Besides congresses, events and the spectacular exhibition you find the most important research networks of Potsdam on the fourth floor: proWissen Potsdam e.V., which is also responsible for the exhibition, pearls of science, Potsdam Graduate school (PoGS), and UP Transfer.